I grew up in Saratoga Springs, NY, a beautiful town just south of the Adirondacks. After high school, I vacillated between academic interests relating to classical guitar, sculpture, and architecture; essentially, I quit state college after a semester and took some classes at the local community college while keeping busy with restaurant jobs. It was soon after that I came across the work of David Peterson at the Skidmore College Art Gallery , and I immediately knew that I had found what I was looking for.
I applied to and attended University Without Walls, an amazing continuing education program run through Skidmore College that allowed me to basically create my own curriculum and coursework while studying Jewelry/Metals with David Peterson. I am at a complete loss to describe the effect this experience had on my life. It was a monumental paradigm shift, an absolute privilege to study with David. As graduation approached, he suggested I consider graduate school. At the time, I was pouring over the studio collection of Metalsmith magazines, and discovered an issue that featured the work of Tom Muir. I decided to find out where he taught and discovered Bowling Green State University and their MFA program. A campus visit and one application later, and I was on my way...to Ohio.
While Bowling Green, OH had a certain amount of culture shock for me, I soon came to appreciate the midwestern work ethic, and found it to be (eventually) a great place to study. I felt that I was making really strong work and progressing in my own aesthetic, conceptual and technical directions.
Following BGSU, I taught at San Diego State for a year before moving to Oregon for 3 years, teaching at Central Oregon Comm. College in Bend for a year, and Eastern Oregon University (LaGrande, OR) for 2 years. Oregon is, in my opinion, the most beautiful state. l came to love the geography, the people I met, flyfishing...hopefully I'll be able to live there again some day.
Currently I run the Jewelry/Metals area at Southern Connecticut State University. With luck, the department will expand to include a MFA program sometime in the future.
Of course, most important in my life are my 2 amazing and brilliant daughters: Sylvia and Charlotte. They like to saw wood and metal, make pinchpots, and are even starting to become pretty good throwing pots on the wheel. On rare occasion they get to make some marks on my work!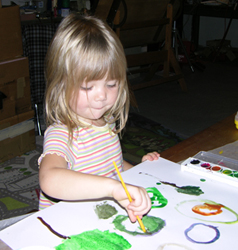 Sylvia - Layout Artist and Graphic Design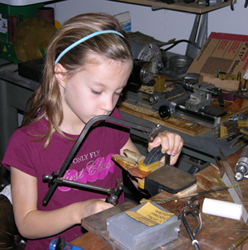 Charlotte - Research and Technical Assistance